1.Register as a remitter
Simply provide your personal details though our Online Registration and the information about your beneficiary through our Easy Online Registration service.

You shall be required to provide a copy (front and back side) of a valid ID as listed below.
Foreigner
- Residence Card / Alien Registration Card

Japanese National (any ID below)
- Driver's License
- Juki Card
- Passport
- Health Insurance Card

For the purpose of filing annual reports related to transactions such as foreign money transfer under the Japanese laws and regulations, verification of individual number
(My Number) for customers who registered with us on and after January 1, 2016
is required. Please note that we shall copy your individual number card or notification card for the purposes of accuracy.

2.Receive your confirmation by post mail
After completing the registration procedure and providing a valid ID, you will receive a confirmation letter after 2 days at least.

Together with the confirmation letter are the Member's Card for Online Bank Transfer at any bank and Postal Payment Card for JPBank (Japan Post Bank).

Choose any of among the easy way of sending remittance below and deposit or transfer the funds. You may also visit our office to send the remittance over-the-counter.
Member's Card -
Online Bank Transfer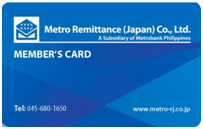 Postal Payment Card
- Japan Post Bank (JPBank)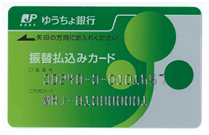 3.SMS & Email confirmations
Upon receipt of the funds deposited/transferred, the remittance transaction will be processed immediately within in a few minutes. An SMS shall be sent as confirmation that the remittance has already been sent and the electronic receipt shall be sent via email.

4.Pending transactions
The customer shall be contacted within day if a remittance transaction could not be processed via SMS, email or by phone.

Upon verification of the required information from the customer or regularization of the documentary requirements, the transaction shall be processed immediately and proper notification shall be sent to the customer.